I've been working on a trip planner, on and off for quite a long time now. Probably since back in 2008, when I started work on 'weheartplaces'. The original idea was to make a site for bookmarking places you want to go, like delicious, except for places. Basically you'd use it to make a list of places you might want to go one day. Foursquare does a pretty good job of this with their 'want to go' feature. And trippy does a pretty good job of being pinterest for places, you can create a wall of all the pretty places you want to visit one day.
Me personally, I still want to create a chrome extension, that lets you quickly save the current page to your travel map. I'm not sure what the next step should be though, whether to create a fully fledged travel planner where you can divide places into days (I'll go to volkspark on tuesday and gorlitzerpark on wednesday), or whether just to make a minimal 'places i've starred nearby' app for iphone and android (using ratcher and backbone.js and phonegap).
So yeah, I haven't decided where exactly I'm going with this project at the moment, and ZoomIn is taking up most of my free development time (especially now that its growing, slightly, week on week) - but watch this space, there might be a cool chrome extension / travel app coming from me. If I can decide what it is exactly that I want to build.
This post partly inspired by utrip - with their cool travel planning app: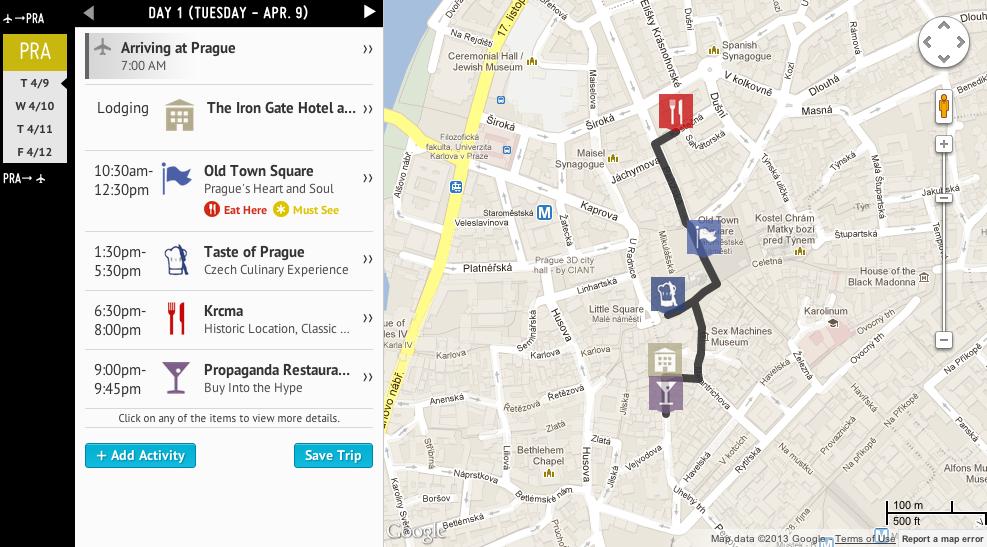 A guide that utrip created for me on a fictional trip to Prague